A multiple bet (also known as an Accumulative bet, ACCA, Parley bet or Combination bet) is a type of bet that contains multiple selections over different events.
One important aspect of multiple bets is that the potential returns are much higher than when placing one or several single bets. This is because when you place a multiple bet, your bet amount will be multiplied with the odds for every selection, resulting in considerably higher potential returns for every additional selection.
With higher rewards come higher risks, though. For you to win a multiple bet, all selections must take place. This means that if even one of your selections 'loses', you lose the entire bet.
Placing a multiple bet
To place a multiple bet, you only need to select the 'Multi' tab at the top of your betslip. Next, you select more than one selection for different events on the same betslip: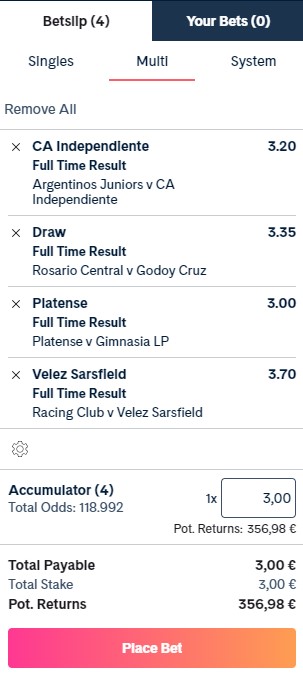 In the example above you will see 'Accumulator (4)' next to the bet amount. This means that you've bet on 4 selections, resulting in a multiple (accumulative) bet. The potential returns will then be calculated automatically.
Please note:
When betting on two or three selections, the bet type will change to 'Double' or 'Triple', respectively. These terms can also be considered multiple bets.
Besides multiple bets, you can also place single bets or system bets.