Usually, we do not require any additional documents after the verification process is completed. When we do need any additional documentation, you will be notified through one of the registered contact methods on your account.
When uploading documents for your verification process, please follow the instructions on your screen after completing your registration. If you have previously started this process, you can continue by logging in using the credentials you used the last time you started your registration.
Please note:
We highly recommend that you use your residency permit to verify your identity. Please make sure that the name you entered during registration matches the name(s) on your permit exactly.
You can read these articles on registering an account and verifying your identity for a step-by-step explanation of these processes.
How to upload verification documents
After you've registered your account by entering your personal details, you will be prompted to upload a photo of your identification document: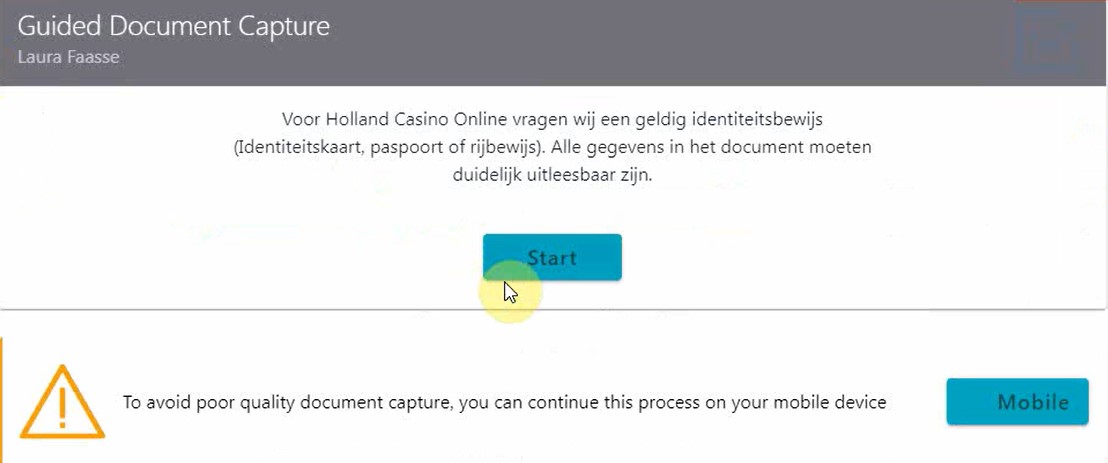 By clicking 'Start' you will be taken to a screen where you can take a photo of your with the webcam on your computer or the camera on your phone. If your computer does not have a webcam, you can click the 'Mobile' button to continue the verification process on your phone.
Please keep in mind that you need to meet our verification standards to make sure your photo is accepted.
If you need to send or upload additional documents due to a request from one of our support agents, please follow the agent's instructions or contact our Service Desk if you have any questions.